Last May, the annual Google I/O Developer Conference returned to an in-person scenario after two years of online events forced by the pandemic. And with a wide set of new and interesting announcements, it seems that the conference has met and even surpassed the expectations of the fans. So let's take a look at some of the most exciting news that the I/O 2022 has left.
Android 13
An announcement of the newest Android OS is always expected at the I/O Conferences, and in 2022 there was no exception. Android 13 is set to be coming soon, with new customization features and improvements in security and privacy, something widely demanded by technology users of all types of devices. Multiple application handling is being updated to bring Android and large screens more closely. Also, digital IDs issued by the government, especially driver's licenses, will now be supported.
Pixel 6a and more
When it comes to smartphones, a commercial strategy aimed at budget-conscious customers has been paying off for Google for a few years now. As part of this approach, during the conference, they announced the new Pixel 6a, which is basically a slightly cheaper version of the Pixel 6. It's a quality and affordable smartphone that includes the Tensor AI chipset and has a 12 MP camera. Pixel 6a will be out on July 28th. Pixel 7 and Pixel 7a are following soon, although not many details were provided.
Google Pixel Buds Pro
The 2022 Conference kept bringing good news for audiophiles and sound lovers. The new Pixel Buds will be incorporating noise canceling and technologies to enhance isolation and transparency. Paired up with a Pixel device, they will be able to support spatial audio. Have you also experienced that annoying situation in which you are running late and you can't find your earbuds? To avoid this, Pixel Buds Pro will be traceable via Android's Find My Device. Buds Pro are coming out the same day as Pixel 6a, July 28th.
Pixel Watch
The smartwatch trend has come further than expected. By now, almost every company competing in the smartphone industry has also developed a smartwatch device. During the conference, Google released a sneak peek of the new Pixel Watch. It will run in an improved Wear OS interface and will feature a bezel-less face with a tactile crown. Although they haven't announced a release date, it is expected to be available by the Northern Hemisphere fall.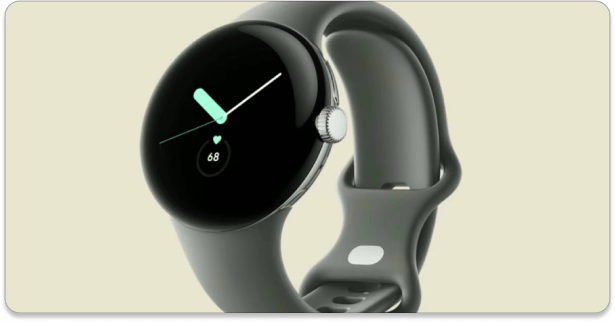 New AR Glasses
At this point, probably nobody would consider it an exaggeration to define Goggle Glasses as a major flop. But even though they were never able to fulfill their promise, we cannot say they didn't draw attention to their product. Now Google is coming back with new, still-untitled Glasses that aim at helping people overcome communication barriers and connect more effectively in a global digital world. At the event, a short video on these new AR Glasses pointed out instant translation as one of their most exciting features.