Marketing tactics are shifting to keep up with tech developments as the globe continues to move toward digitalization. You wanna know what's the latest trend in the field? The usage of marketing bots driven by AI is one of the most recent advancements.
Marketing bots are made to assist organizations in automating their marketing initiatives, improving consumer engagement, and boosting income. Today we'll dive into the area of artificial intelligence in marketing bots and we'll deeply examine how these bots are changing affiliate marketing. Let's now start by defining what exactly they are.
What is an AI marketing bot?
AI marketing bots are software programs that apply artificial intelligence to automate marketing jobs, to put it simply. Lead generation, client interaction, and campaign optimization are some of these duties.
AI marketing bots can analyze enormous volumes of consumer data to find patterns and trends, and then make the most out of this data to instantly improve marketing efforts.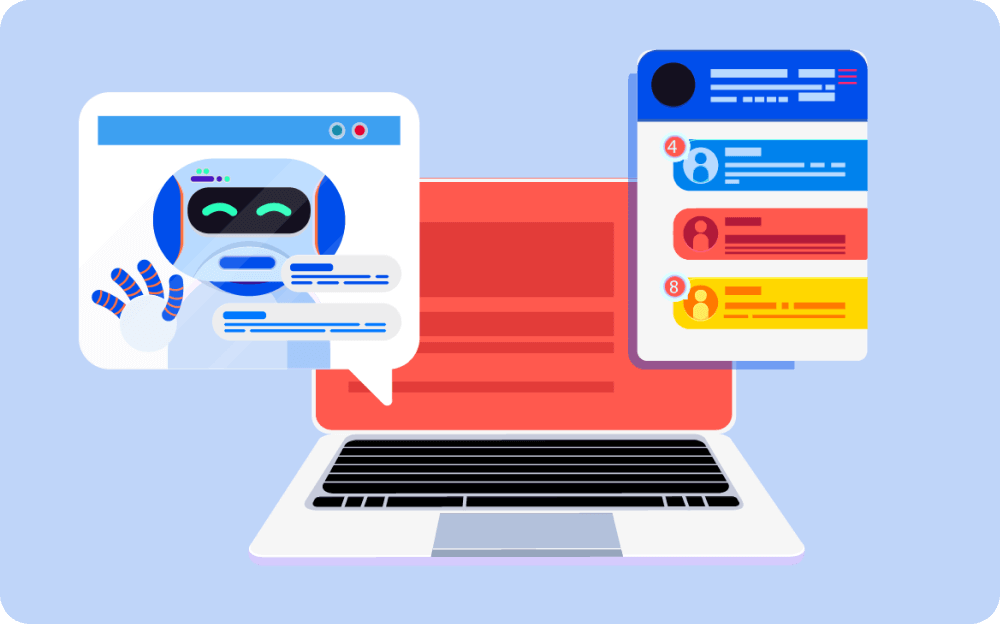 But how do these bots actually work?
We could mention at least three uses for marketing bots:
Process and analyze client data. Using machine learning techniques, bots can surf client history, social media usage, and buying patterns. Then they can determine client preferences, interests, and wants based on this data.
Automation of typical marketing processes. Including lead generation and customer engagement, automation derives a great benefit when you may then use the freed-up time and resources to concentrate on more strategic projects.
Delivering tailored marketing messages. You may target clients with messages that are specific to their preferences and needs using AI marketing bots. This not only enhances client experience but also raises conversion rates.
Now that you know all the uses and benefits you can get out of marketing bots, let's analyze how you can choose the right for your company.
How to pick the ideal AI marketing bot for your company's requirements?
Yes, selecting an AI marketing bot for your company's requirements could be difficult. It's challenging to start when there are so many alternatives on the market. For this reason we highly recommend following the criteria below:
Assess your financial situation
Choose a bot that fits your financial situation. Your marketing objectives should also be taken into consideration while choosing the best bot for your company. Pick one that supports your particular objectives and provides the functionality you need.
Integration
When choosing an AI marketing bot, integration is also an important aspect. To streamline your operations and improve outcomes, it's critical to find a bot that can work with your current marketing tools.
Ease of management
Lastly, in order to boost your chances of success and make sure that your team members are operating the bot efficiently, you should pick a bot that is user-friendly and simple to manage.
You're now ready to choose the best AI marketing bot to suit your goals by taking these aspects into account.
The benefits of using an AI affiliate marketing bot for your campaigns
Handling affiliate marketing programs may be a time-consuming and confusing process, particularly for small firms. This is where AI-powered affiliate marketing bots come in, providing numerous benefits that could assist you by simplifying ops and achieving greater outcomes.
The capacity of AI-powered affiliate marketing bots to discover high-value affiliates is one of their major strengths. These bots evaluate massive quantities of data, such as affiliate activity, conversion rates, and engagement metrics, using machine learning algorithms.
Another perk of AI-powered affiliate marketing bots is their capability to optimize campaigns for good outcomes. Based on real-time data analysis, these bots may automatically modify campaign settings such as bid amounts, ad placements, and targeting.
Affiliate marketing bots powered by AI can also follow and evaluate campaign results in real-time, providing organizations with helpful data on campaign effectiveness. This helps companies make data-driven advertising decisions and alter their tactics as needed.
You can use that information to constantly enhance your campaigns, obtain greater outcomes, and take the lead in the market.
The top AI affiliate marketing bots
Here we've gathered some of the top AI affiliate marketing bots, for you to take into account when it's time to choose.
Admitad
Admitad is a powerful affiliate marketing platform with a host of AI-powered capabilities, such as real-time optimization and smart targeting. This enables companies to target the appropriate market and guarantee that efforts are always adjusted for the greatest outcomes.
Affise
This is another popular affiliate marketing platform that makes use of AI to assist organizations in tracking and analyzing the success of their campaigns. It provides campaign performance optimization tools and recognizes high-value affiliates to boost ROI.
Refersion
Refersion is a user-friendly affiliate marketing platform that uses AI-powered tools to help businesses automate their affiliate marketing campaigns and track results in real time.

TUNE
This is a platform for affiliate marketing that uses AI, providing cutting-edge capabilities like fraud detection and campaign optimization. Businesses may use real-time tracking to make data-driven decisions that will enhance the effectiveness of their initiatives.
The future of affiliate marketing: AI-powered marketing bots
AI-powered marketing bots are rewriting the rules in affiliate marketing by providing a quick and low-cost method to optimize campaigns.
You may take advantage of various benefits selecting the correct AI marketing bot for your business needs. Why not give it a shot? Who knows? It could be the game-changer your company requires.
It's time for you to consider employing an AI-powered marketing bot if you want to take your affiliate marketing initiatives to the next phase. Begin investigating your possibilities straight away! Check our AI Software Development Services for more information.